China's first spacewalk: no cold-war race this time
The Shenzhou 7 launches Thursday in an era of global space cooperation.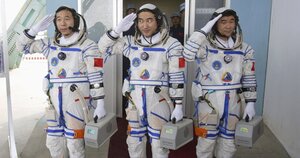 REUTERS
Fifty years after the dawn of the Space Age, China is solidifying its position as only the third nation to launch humans in orbit.
If all goes well, three "taikonauts" will embark Thursday on a three-day Earth-orbit mission, which includes the country's first spacewalk.
But space is no longer the domain of the US, Russia, or even China. It's a global affair.
"It's not two players any more. In space exploration and Earth observation, you have capabilities around the world. So the question is: How do we move forward" [together]? says Vincent Sabathier, a former official with the French Space Agency CNES and now a senior fellow at the Center for Strategic and International Studies in Washington.
Eleven nations launch satellites, and 50 countries are operating their own satellites. The cold-war concept of a "space race" is yielding to deepening international cooperation. China and the US are even talking about working together.
China's latest mission is part of a carefully orchestrated program to advance the country's technological capabilities. And it's driven by China's desire for "a place for [its] mat" on the international spaceflight stage, says Gregory Kulacki, who specializes in global security issues and China with the Union of Concerned Scientists.
---