Energy audits: A high-tech way to stay warm this winter
Inspectors turn to infrared cameras to spot air leaks that the eye cannot.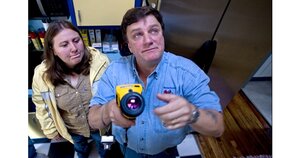 Ann Hermes/The Christian Science Monitor
After home heating oil prices surged last winter, Meghan Kaiserman decided this fall to get ahead of any price spike and go thermal – that is, she chose to get a thermal-imaging home-energy audit.
So, on a recent chilly morning, Ms. Kaiserman and thermal-energy auditor David Valley walked through her large 1940s ranch-style home, stopping every few steps to examine a color screen on Mr. Valley's camera. The device scans walls and other surface temperatures in the infrared spectrum – heat energy invisible to the human eye – and displays them as colors. Blue, dark purple, and black indicate cold levels; white, orange, and red represent warm areas. Snapshots of walls become part of a home's thermal documentary.
"See those blue and black streaks set against the orange background – that's cold air whispering into your house," Valley says, his finger tracing onscreen an eerie purple line where wood paneling abuts her stone chimney. "This is really you helping to heat the great outdoors."
Garden-variety home-energy audits have been around since at least the 1970s, of course. Then, as now, it's still mostly a low-tech job in which a homeowner or contractor embarks on a hands-and-knees hunt for air leaks around electric outlets, window frames, crawl spaces, doors, and fireplace dampers. Any gaps are plugged with caulk or insulation.
But rising home heating prices and falling technology costs have combined in the past year or so to make home-energy audits more high tech and precise than ever.
For $350 to $500, a thermal audit can not only discover where energy is wasted, but also pinpoint mold as well as termite or water damage behind walls.
---