Space station to get 'home makeover'
A shuttle, launching Friday, will bring a new bathroom, fridge, and water system.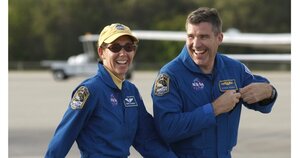 Scott Audette/Reuters
The orbiting electricians have nearly finished their work on the International Space Station. Now it's time for the plumbers.
The space shuttle Endeavour and its seven-member crew are set to launch early Friday evening for a 15-day mission to the orbiting outpost. Their assignment resembles an episode from the Home and Garden Channel's "Designed to Sell": Add a bathroom, upgrade the kitchen.
Endeavour is slated to deliver a shower-and toilet-stall combo, appliances for the galley, a new recycling system that turns waste water into drinking water, and two of what will be four new private sleeping quarters for crew members. To keep the station crew in shape, the shuttle is also bringing an exercise machine.
Until now, station-assembly missions have focused on building the basic structure and ensuring that it has power. Now, missions are increasingly aimed at getting the interior ready for six crew members, rather than the current three.
Unlike the past, "the station won't look any different on the outside" when Endeavour's mission ends, says Michael Suffredini, the space-station program manager at the National Aeronautics and Space Administration. "But it will be dramatically different on the inside."
---