New experiments push evolution in ways Darwin never expected
Column: Advances in DNA research enhance basic concepts of evolution.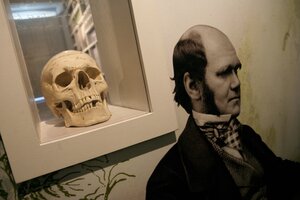 Carl de Souza/AFP
As scientists celebrate Charles Darwin's 200th birthday this month, it's worth considering what Darwin did not know. He hadn't a clue about genetics or DNA. That knowledge has extended Darwin's evolution research to include the fundamental information that underlies our planet's organic life. He also knew nothing of combinatorial chemistry in which robots carry out thousands of simultaneous experiments. This modern technique has enabled scientists to explore the formation and evolution of the first living cells.
David Deamer at the University of California in Santa Cruz is one of those scientists. At the annual meeting of the American Association for the Advancement of Science (AAAS) that ended Monday in Chicago, he explained why he thinks the origin of life on Earth is the result of combinatorial chemistry – millions of simultaneous "experiments" operating on a global scale. He described how his laboratory mimics that era in an array of thousands of individual compartments in which different molecule mixtures undergo reactions. He noted that critics doubt that the right molecules would randomly come together to jump-start life. But, he added, the possibility that combinatorial chemistry provided millions of opportunities for this to happen on primitive Earth "gives us a better way to think about the probability of life emerging from this process."
---