Gaming goes hollywood
Motion capture blurs line between video games, films.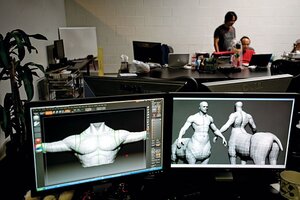 Ann Hermes/The Christian Science Monitor
Reuben Langdon has a most unusual profession: He's a human marionette.
Drop by Mr. Langdon's office in Marina Del Ray, Calif., and chances are you'll find him dangling in a suspension of stunt wires. Don't be surprised if he's wielding a toy sword.
Part acrobat, part martial artist, Langdon is one of the world's top motion-capture actors. For years, video-game- makers have filmed the performer's choreographed actions in a suit dotted with sensors and then mapped them on a computer to create iconic characters such as Ken in "Street Fighter IV" and Dante in "Devil May Cry." The latter, which Langdon also voices, even has its own buff action figure. "They did model the six-pack after my six-pack," jokes the actor.
Now it's Langdon's turn to pull the strings. The versatile thespian is not only crossing over into cinema – he was hired as a performance-capture actor for James Cameron's upcoming "Avatar" – but his production company, Just Cause, is employing cutting-edge cameras used in 3-D movies to bring a more cinematic feel to video games.
"What Just Cause is doing is really a sign of the times in the cross integration of interactive entertainment in gaming with big-budget movies," says Scott Lowe, gear editor at IGN.com, a website devoted to multimedia and gaming. "Both mediums seem to be benefiting from that kind of cross integration."
---