Top five online 'Easter eggs'
Google and others embed 'Easter eggs' for times when web users are in the mood for diversion.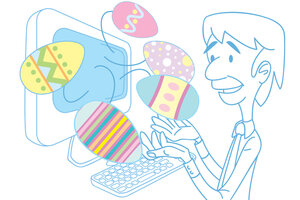 Rich Clabaugh/Staff
Google loves a good gag. The company made a name for itself through an efficient, fluff-free online search engine, but Google constantly tries to remind people that it has a sense of humor, too.
Some flourishes are overt, such as when it tweaks the company logo from time to time to celebrate a holiday or great thinker. Yet many of Google's best touches hide among the nooks and crannies.
"Easter eggs," as these secret treasures are often called, lurked amid websites, movies, and video games long before Google launched. But Google has tucked away some of the best. Here's a sampling:
Cheeky tongues. To accommodate users from across the world, Google comes in more than 120 languages – Arabic, Filipino, even Elmer Fudd. If that last one sounds odd, you've spotted an Easter egg.
Google's Fudd page looks the same as its English counterpart, but all the labels are spelled the way the Looney Tunes character would say them. Type in your search, then click "Seawch" or "I'm Feewing Wucky."
---