West Philadelphia high school dares to build a 100 m.p.g. car
Students from West Philadelphia make a viable 'X PRIZE' run against auto companies from around the globe. The potential prize: $7.5 million for the school and a 100 m.p.g. car for the world.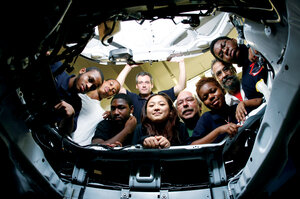 Tim Shaffer/Reuters
Can a team of high school students beat out dozens of adult competitors and win $7.5 million by building the "Model T" of the 21st century?
They're working on it.
A group of about 15 students from West Philadelphia High School is in the running for the 2010 Progressive Insurance Automotive X PRIZE, a competition to build street-ready vehicles that can average 100 miles per gallon or more.
The West Philly Hybrid X team, a largely after-school project, has two cars among the 22 teams and 27 cars still in the competition. A "knockout" round in mid-June will further narrow the field. The winner will be determined in finals held at the Michigan International Speedway in Brooklyn, July 19-30.
West Philly is the only high school team in the competition, which has been taking places in stages for more than a year. Originally, 111 teams with 136 vehicles entered. Other survivors range from small start-up companies to Tata Motors, the giant automaker in India.
What West Philly has accomplished is really "an amazing story," says Eric Cahill, senior director of the Automotive X Prize, a project of the X PRIZE Foundation that has held similar competitions to build private spacecraft and decode the human genome.
---