Hybrid cars, electrics zoom past 100 m.p.g.
Hybrid cars are finally on track in the US as automakers reach for new refinement on electrics.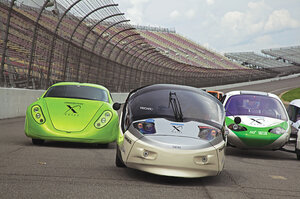 Newscom
Thanks to hybrid cars and electrics, the auto industry is about to put a fresh charge into the American car. Thousands of orders have already been placed for long-talked-about plug-in electric vehicles (EVs) such as the Chevy Volt and Nissan Leaf, which will be delivered in the next few months.
That trend is set to accelerate. By 2015, at least 108 models of electric or hybrid-electric vehicles will be in showrooms, more than four times as many as today, according to one analyst's forecast.
Weaning drivers off petroleum fuels yields a number of benefits, from cutting reliance on foreign oil to reducing the release of greenhouse gases. New US federal fuel-efficiency standards are a big driver of the change: They require car companies to reach a fleet average of 35.5 miles per gallon (m.p.g.) by 2016, nearly 30 percent higher than today's 27.5 m.p.g. standard.
By 2012, the government is expected to set much tougher standards for the years 2017-25. Some environmental groups advocate a fleet average of 60 m.p.g. by 2025.
But while the promise of a new world of plug-in electrics has sent a jolt through the industry, some observers say the reality is likely to be something much less dramatic: electric propulsion teamed with a technology more than a century old – the familiar internal-combustion engine.
The recently completed $10 million Progressive Insurance Automotive X PRIZE competition sought to jump-start a new generation of safe, superfuel-efficient vehicles capable of achieving at least 100 m.p.g. (or the equivalent in electrical usage) while also meeting safety standards and achieving reasonable acceleration, braking, and maneuverability. But the winner in the "mainstream" category (a four-passenger vehicle), called the Edison2, was powered not by electricity but by an internal-combustion engine the size of a small motorcycle engine.
---