How to manage in-box 'bacon'
'Bacon' describes the mass e-mail you want instead of the spam you don't.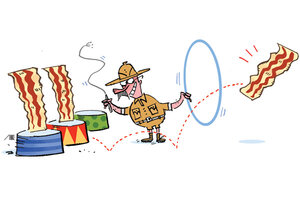 Bob Staake
Science has solved spam. Once the scourge of in-boxes everywhere, junk e-mail now sets off automatic traps that identify, quarantine, and eliminate spam with near perfect accuracy. So why do in-boxes still feel so cluttered?
"We got to this point in our e-mail where the spam filter is doing its job, yet our in-boxes are still filled," says Jamie Siminoff, a serial Web entrepreneur in Santa Monica, Calif.
For Mr. Siminoff, the spam has been replaced with "bacon."
Bacon describes the gray area between the personal e-mail you want and the spam you don't. It's newsletters, coupons, and notifications – commercial e-mail that you probably signed up for but now receive far too often.
"Bacon is all of your Facebook notifications or bank e-mails saying that a bill is due," says Tommy Vallier, a social media consultant and one of the people that coined the term at a Pittsburgh technology conference in 2007. "We came up with the word just as bacon really started to become a problem."
That year, retailers sent an average of 85 e-mails to each of their subscribers. Since then, the number has nearly doubled to 152 messages, according to the marketing firms Responsys and Sendito.
---