Maker Faire: Mad science for the masses
Maker Faire mixes youthful enterprise with accessible tech. Now more than ever, it's kids doing the mad science.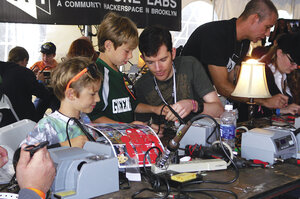 James Turner
To the uninitiated, the scene at the New York Hall of Science in Queens, N.Y., might look like a bus load of engineering students staging a carnival. A car drives around outside covered in mechanical fish singing "Bohemian Rhapsody." Under one pavilion, kids get a first taste of how to solder electronics, while inside the main building, a group called ArcAttack makes music with half-million-volt Tesla coils.
In short, it's Maker Faire, a three-day event in September that brings artists, engineers, crafters, and mad scientists together to share their joy of creating. And increasingly, it's kids who are doing the mad science.
Among them stands 14-year-old Joe Hudy, a self-professed "maker," with a massive pneumatic marshmallow cannon to prove it. He's been constructing his own fun for as long as he can remember, and the reason is simple, Joe says: "People just love to build things."
David Giancaspro, a writer for Wired magazine's GeekDad website, believes that people – adults and kids alike – have a natural urge to want to build things. "As we've moved further and further away from that, towards what people call 'knowledge work,' as opposed to producing something physical, that urge is starting to come back," he says.
For Joe, Mr. Giancaspro, and other makers, this primal urge struck at a wonderful time. Lots of once-expensive electronics have now become low-cost toys for tinkerers. For example, Giancaspro points to the Arduino single-board microcontroller. The board, available for around $30, allows budding inventors to embed computer controls into anything from homemade robots to color-changing origami lanterns like the ones the Wired writer designed himself.
---