The 'Prius of bicycles' switches gears by reading your mind
The Prius X Parlee bicycle combines light-weight design with brain-control gear shifting.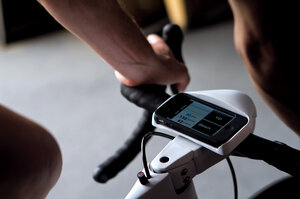 John Watson/Toyota
Parlee Cycles's new bike looks ordinary enough, but the helmet gives it away. Plastic tentacles reach down from the headgear, pressing metal sensors against the cyclist's scalp.
This snug but comfortable helmet has a secret power. It reads minds.
Its array of neurotransmitters sends signals to a smart phone attached to the bicycle's handlebars, which then connects to the gear system. With a little training, a cyclist can change gears with a thought. One kind of brain wave commands the bike to downshift; another causes it to shift up.
"Sounds kind of crazy, right?" says Patrick Miller, senior creative engineer at Deeplocal, the company responsible for the digital end of this Prius X Parlee bicycle (PXP). "We underestimated how magical it would feel to shift with your mind."
PXP is a joint venture of Deeplocal; Parlee Cycles, a bike manufacturer that handcrafts carbon-fiber bikes; and Toyota, maker of the Prius hybrid car.
The team set out to create the Prius of bicycles.
Biking is already pretty energy-efficient, so aiming for a greener two-wheeler would do little good. Instead, the crew focused on another aspect of the Prius brand: getting to better understand the engine. The car's dashboard comes with a computer display that shows how energy flows through the car.
Thanks to the mounted smart phone, the Parlee design can do the same thing. A special iPhone app monitors the rider's heart rate, pace, speed, brain waves, and even habits. If a cyclist changes gears before riding up a hill, the phone will remember the location and automatically downshift next time the bike approaches the incline.
---