MakerBot Replicator 2: Print your own objects at home
MakerBot introduces a 3-D printer for schools, workshops, and homes. The Replicator 2 costs $2,199.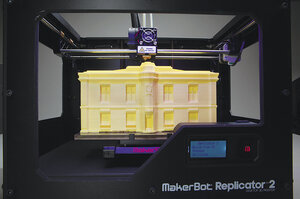 Makerbot
A little bit of science fiction has popped up in lower Manhattan. This fall brought the opening of the first MakerBot store, a retail spot designed to show off and sell 3-D printers such as the Replicator 2.
Like its "Star Trek" eponym, the Replicator creates objects on command. The device works a bit like an inkjet printer, but instead of using ink, the nozzle spits out tiny dollops of plastic. It builds up objects layer by layer, starting at the base and working upward until the entire plastic toy, anatomical model, or replacement car part is complete.
When the Monitor first wrote about 3-D printers back in 2009, the movement existed mostly in high-end factories and the garages of wealthy or at least very devoted tinkerers.
But the Replicator 2 has a different aim. MakerBot designed its newest printer for schools, workshops, and homes.
"It's amazing how far 3-D printing has come," says Taylor Absher, a senior technology specialist at New York University's Advanced Media Studio. His lab helps students and professors use the school's professional 3-D printers. As people realized the power of printing nearly any shape that they can think up, the number of requests to his office doubled last year. "But more and more, we have people come in with objects that they printed at home," he says. "And we've had one customer that we lost because he now has his own MakerBot."
---