Botanical conservatories take on urgent new role
Speed of climate change makes glasshouses bulwarks in the battle to preserve biodiversity.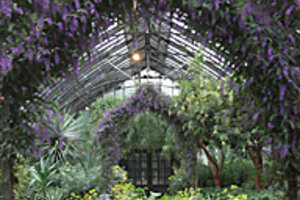 Courtesy of L. Albee/Longwood Gardens
Conservatories, once the glass-walled playgrounds of wealthy plant collectors, now serve a more urgent function. The changing global climate has spotlighted the role these specialized greenhouses play in preserving plant diversity.
Like zoos for endangered animals, climate-controlled conservatories may well be the only places some plants can survive, allowing scientists to educate the public, including gardeners, about the environmental threats to many species.
Glasshouses, as they are also known, are often the first stop on visitors' tours of public botanic gardens. These structures hint at the research going on behind the scenes, such as the development of seed banks and collections of endangered plants. Conservatories also cost a good deal to operate, and so they stand at the forefront of efforts to use fuel more efficiently.
Kayri Havens, director of plant science and conservation at the Chicago Botanic Garden, says that scientists began viewing species conservation as a primary function of conservatories only about 50 years ago, when they recognized that such threats as habitat destruction, pollution, even overcollecting were endangering plants around the world.
Dr. Havens is among the scientists at botanical gardens who call climate change "an imminent threat to biodiversity." A decade ago, she says, botanists didn't see it as an urgent problem. Today, "Most of my colleagues and I think that we need to complete a concerted seed-bank effort within a decade – two, at most – to capture species while there still is genetic diversity," she says.
The urgency arises from the varying rates at which plant species reproduce, which determines how quickly they can adapt. "We're particularly worried about species such as trees, which take a long time to reproduce," Havens says.
Memo to Noah: Two is not enough
---