London wants to put Britishness on a pedestal
Will it be meerkats, a junk car, or a hero for Trafalgar Square's empty fourth plinth?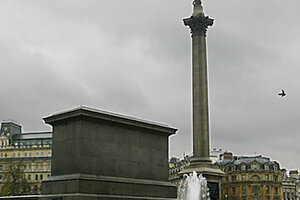 Adrian Dennis/Afp/Getty Images
The National Gallery in central London isn't normally where individuals gather to exercise their "people power." It's far too demure and Victorian. The only sounds usually heard in this cathedral of art are the click-clacking of visitors' high-heels and the pencil-scribbling of students doing their own versions of Van Gogh's Sunflowers.
But one morning last week, as a dewy fog spread from Trafalgar Square and dampened the gallery's windows, Stacy Marks, a 17-year-old student with an eyebrow piercing and a neon-pink bag slung over her shoulder, was here to "stir things up."
"I want to change central London – and possibly the country," she told me. She wasn't planning a sit-in, or a megaphone-enabled protest against a particularly unpopular painting – she was casting her vote in the consultation process to find a new monument for the fourth plinth, the historically empty plinth in Trafalgar Square.
Three of the plinths in Britain's best-known public square carry statues of heroic military men. And, of course, Adm. Horatio Nelson – the hero of the 1805 Battle of Trafalgar between England, France, and Spain – stands atop a column in the middle of the square. But the mysterious fourth plinth in the northwest corner has stood empty for more than 150 years. Now, the National Gallery is showing scale models of six proposed monuments that might occupy the lonely plinth. And it's inviting the public to chip in to the debate.
---