Two men minister to victims of violence in inner-city Boston
Michael Person and William Dickerson operate a 'first response ministry' that works to console victims' families and stem crime in Dorchester.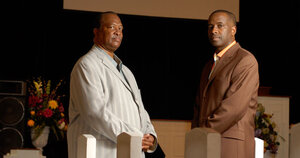 Mark Thomson
The two men sit in a car on the edge of the Burger King parking lot. Soon they will go inside, where one will eat fries – he calls them his biggest vice – while the other, who wants to lose weight, drinks a diet Coke. Now they point out the apartment building in front of them: yellow brick, with cherry trees in bloom.
"That's where my son was murdered," says one of the men. His face barely registers emotion as he speaks, not because there's no pain but because this is a story Michael Person has told innumerable times. His son, Michael Greene, had done good and bad in his short life. At 26, having just signed a record deal, Greene seemed poised to turn a corner before he was shot to death during a 2001 dispute over drug turf.
The story is wrenching in itself but cuts deeper when Mr. Person explains that he also lost his sister, brother, nephew, and niece to homicide. And this particular spot, an unremarkable corner of Columbia Road and Washington Street, has a terrible history of its own: two murders since Greene's as well as the homicide of Person's nephew a block away.
Person turns to the other man, who wears tweed casuals and a baseball cap. "Your nephew, he was killed a couple of miles away, right?"
William Dickerson shakes his head. "Mile and a half," he says. "Upham's Corner."
---