Spelling bees, long a domain of kids, now attract seniors
The AARP national championship this weekend will feature dozens of contestants who have spent the past year studying words in the car, on the treadmill, and in the dentist's chair.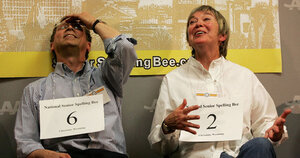 Courtesy of Shauna Stephenson
Leslie Hardy knows attitude. Not the mental state – although he knows that, too, and has thoughts on the matter – but the word itself. He spelled it wrong 50 years ago, and that sequence of letters is seared into his mind.
A stutterer through elementary school, Mr. Hardy overcame his trouble when his sixth-grade teacher asked him to read the entire dictionary and learn to pronounce every word. In eighth grade, stutter-free, Hardy entered his school spelling bee and won – "the first thing I'd ever won in my life," he says. "I was a very shy person, and I began to develop some self-confidence."
He took first place in that year's citywide competition in Salem, Ohio. But at the state bee, Hardy's first word was attitude. He reversed the double "t" and single "t" – and from then on, he says, "attitude became the watchword of my life." Last month, the Harrisburg, Pa., man participated in his first spelling bee since eighth grade – a statewide contest – and won.
---