In Chicago, talking sense to angry young men with guns
Antiviolence program employs ex-gang members to help curb street violence, with some success.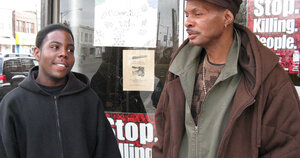 Richard Mertens
Marnell Brown's phone rang an hour before midnight. A 17-year-old youth had been shot and killed not far from his office in West Garfield Park, one of Chicago's poorest and most violent neighborhoods. Some of the teen's friends were gathered a few blocks away, the caller said. They wanted to strike back.
Mr. Brown went to stop them. "So far we have a casualty, one lost," he remembers telling them. "You're willing to go to war? You'll lose more. And what about civilians? Are you prepared for that – friends and neighbors, brothers and sisters? You may hit your target. But when they come to retaliate, they ... might hit your mother or sister."
As cities struggle to curb gun violence, more of them are turning to people like Marnell Brown. A former gang member who spent much of his adulthood in prison, Brown works on some of Chicago's most ruthless streets, steering young men away from violence and toward jobs, schools, drug treatment, and more stable lives. At times he and his colleagues try to restrain agitated, angry, and often drug-addled youths from the kind of retaliatory violence that characterizes much gang conflict.
"You have a lot of guys in a pretty bad condition, guys going through emotional stuff," he says. "They don't know how to handle it."
Gun violence, especially involving gangs, continues to baffle many cities. Gang-related killings soared from the 1970s until the mid-1990s and has remained high ever since. According to the federal Centers for Disease Control and Prevention, homicide is the leading cause of death among African-Americans ages 10 to 24.
---