One student's quest to win the college lumberjack championship
Matt Slingerland, who comes from a family of timbersport competitors, will vie for the national title this weekend in Georgia.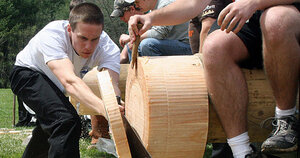 Courtesy of ESPN Outdoors
Rockwell, N.C. - Matt Slingerland can cut it. And he can chop, saw, and do most anything else you can think of when it comes to hacking into tree stumps, blocks, and other large hunks of wood.
Matt comes by his talent honestly. His father, Mike, is a 24-time world titlist in various logging, or timbersports, disciplines. Not only that, Matt's mom, Barbara, has also competed at the highest levels of the sport and still takes on the occasional challenge with her husband in so-called Jack-and-Jill competitions. Matt's twin brother and younger sister also compete.
Notable, too, all in the family have been remarkably injury-free despite years of muscling mighty saws, axes, and chain saws at high speeds. Credit a self-pronounced fanaticism for safety as well as chain-link socks and shinguards.
Now Matt, the slight younger Slingerland, who stands 6-foot-1 and weighs 160 pounds, may soon wield the biggest ax on campus despite having just wrapped up his junior year of high school. Later this month, he'll battle for the college championship in a nationally televised competition. "I'm expecting to be the smallest person there," Matt says, smiling. "And the youngest."
He'll be giving up as much as 90 pounds to competitors. Matt, 17, enrolled in a class and joined the woodsmen's team of a nearby community college in an attempt to qualify for one of six spots in the Collegiate Series Championship on June 28-29 in Columbus, Ga. He did, clinching a spot in the national championship in April.
• • •
---