One woman leads a crusade to cleanup cycling in Germany
Sylvia Schenk, a lawyer and former Olympic runner, is trying to rid sports of drugs by getting sponsors to force athletes to submit to testing.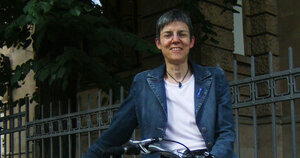 Isabelle de Pommereau
FRANKFURT - For years, Germany culivated national pride through bicycle racing. The triumph of German teams across Europe triggered a nationwide craze. Sponsors lavished riders with money, and some, like Jan Ullrich – who in 1997 became the first German to win the Tour de France – emerged as national icons. But a problem loomed. Many cyclists were taking performance-enhancing drugs. "Everybody knew about it," recalls Nikolaus Brender, editor in chief of ZDF, a publicly funded German television station. "But nobody said anything."
Enter Sylvia Schenk. A former Olympic runner turned lawyer, she was serving as councilor for women's affairs for the city of Frankfurt. In 2001, she became the first woman elected president of the powerful German Cycling Federation. Since then, she has helped spearhead a shake-up in cycling's – and the German public's – attitudes about the use of illegal drugs in sports.
She became one of the first high-ranking cycling officials to break the code of silence on the issue. Though Ms. Schenk resigned in 2004 to protest what she saw as the federation's attempt to cover up a potential drug scandal, she has crusaded relentlessly ever since.
Today, the drug issue draws almost daily headlines, sponsors are pulling money from long-established races, and parliament has adopted aggressive antidoping laws.
---