David Millar tries to clean up cycling from inside the peloton
The Scottish rider, once banned from the sport for two years for doping, now competes with a team pioneering a new drug-testing model.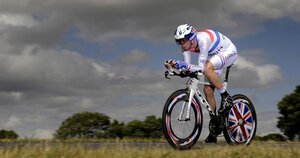 Frank Faugere/DPPI/Icon/NEWSCOM
David Millar was sitting on his couch in Biarritz, France – oddly calm. Moments earlier, a Paris drug squad had tracked him down and entered his home, guns drawn, searching for evidence that one of the world's top young cyclists used performance-enhancing drugs. No matter. Mr. Millar, who had taken blood-doping stimulants a year earlier, decided to go clean after winning the 2003 world championship individual time trial.
As the agents approached his bedroom, though, Millar panicked. He remembered that he had stashed his last two syringes in a watch box on the bookshelf. "I had this flash – there's something in the bookcase," he recalls. Moments later, Millar was hauled off to jail – in handcuffs.
Today Millar has become a poster child for a budding movement to clean up a sport that has arguably been more damaged than any other by doping. After being stripped of his world championship and banned by the British cycling federation from the sport for two years, he is back with a team that is pioneering new methods to prove its athletes are drug-free.
And they're putting in a respectable showing. His Garmin-Chipotle squad led the team standings in the early stages of this year's Tour de France, and teammate Christian Vande Velde is now ranked third. While some on the cycling circuit fault Millar for trying to capitalize on his conversion, his team's self-policing approach has become a model that an increasing number inside and outside the sport are emulating.
---