Philadelphia picture show
The City of Brotherly Love has more murals than any other US city. But they're more than art – they're community-builders.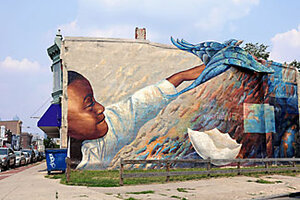 Rebecca L. Rhoades
They rise from vacant lots in rundown neighborhoods, covering the sides of brick row houses, shuttered businesses, and even schools and community buildings, their brilliant designs emerging like wildflowers in a forgotten garden of crumbling cement and rubble.
In one, a young boy reaches for a bird, its blue wings extending beyond the building's roofline. In another, baseball great Jackie Robinson slides into home, his outstretched hand signifying not only his winning run but his breaking of the color barrier.
They tell stories of hope and redemption, of cultural traditions, of community leaders long gone. But whether it's a portrait of basketball legend Julius "Dr. J" Irving or Keith Haring's whimsical dancing figures, the images all have one thing in common: They tell the story of Philadelphia and the people who live in its poorest neighborhoods.
Philadelphia boasts more than 2,800 indoor and outdoor murals, with another 135 created annually. Next year, the city will celebrate the 25th year of the program that started as an anti-graffiti initiative and has spawned similar programs in cities such as Cleveland, Detroit, and Washington, D.C.; and in locations as far away as Paris and Hanoi, Vietnam.
---