Inside the planet hunter's lair
Geoff Marcy, astronomy's Indiana Jones, had 10 days, one telescope, and a universe of planets to discover.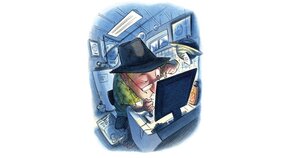 Dan Vasconcellos
An astronomer's job generally comes with breathtaking views from delightfully remote peaks, in observatories perched on mountaintops far from city lights. But tonight, Geoff Marcy is bunkered in the basement of a building so close to a rock concert that you can't even find a parking space.
Yet he's on a volcano. Kind of.
From a swivel chair in the basement of the astronomy department at the University of California, Berkeley, he's directing the world's largest functioning telescope, on Hawaii's 14,000-foot Mauna Kea volcano. Dr. Marcy's remote-controlled system of interconnected computers, screens, and a real-time audiovideo connection shows him what the telescope is "seeing" – and it's not the twinkling light of a distant star. Rather, the screens fill with the spectrum of colors that starlight produces. To the untrained eye, it's no more than a blotch of 1960s psychedelia.
Marcy is a planet hunter, a kind of Indiana Jones of the astronomy world – supposing Jones had been armed with millions of dollars' worth of stargazing technology instead of a whip and searched galaxies rather than jungles.
An astronomy professor at UC Berkeley, clad tonight in a Hawaiian shirt in homage to the telescope's homeland, he has the rare privilege of 10 consecutive nights on the Keck, during which he's searching for planets beyond our solar system.
His days are long: five to seven hours of daily preparation, during which he comes up with a "script" of which stars he and his "ace" postdoctoral fellow, Andrew Howard, will look at that night; on top of that, there's the routine calibration and testing of the scope – and all of this takes place well before nightfall in Hawaii.
---