Players gather in the Santa Cruz Mountains to make music from saws
Devotees of the old art form – including everyone from college professors to vaudeville performers – produce a symphony of sounds that are at once Halloween eerie and songbird sweet.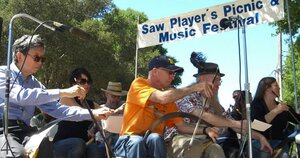 Jocelyn Wiener
As the evening light dies over a dusty parking lot in the Santa Cruz Mountains, a small group of musicians pick up their bows. They balance their saws between their knees, bend back the sharp, toothy blades, and produce a sound at once Halloween eerie and songbird sweet.
The 30th annual Saw Players Picnic & Music Festival – held each summer in this small northern California community – officially takes place on the second Sunday in August. But tradition has it that sawyers begin jamming the day before. They play their tools-cum-instruments in the parking lot until 1 or 2 a.m., then toss and turn for a couple of hours in the back seats of their cars.
The saw players, like their instruments, are an admittedly shy and quirky bunch. There's a social worker from Minneapolis, a traveling vaudeville performer from the Czech Republic, a community college instructor from Seattle – all drawn together by their shared desire to extract a haunting whistle from a carpenter's tool.
During much of the year, they practice the melancholy music alone in their basements, or play backup to the saw's often louder, more popular brethren: the fiddle, the banjo, the guitar.
So, for the handful who have gathered for this pre-festival jam session, the night is a rare opportunity to trade tips, unite melodies, and bask in a shared adoration of the oft-overshadowed musical saw.
---