Longshoremen drill team presents different image of dockworkers
At parades and other events, members of a local union in San Francisco dazzle crowds with a routine that is part Riverdance, part Marine Corps march.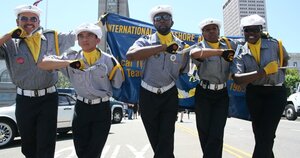 Frank Kosa
A phalanx of longshoremen stomps down the middle of Fillmore Street in downtown San Francisco. Steely, disciplined, and imposing, they're chanting slogans and swinging grappling hooks.
There is, however, no threat here. This isn't a reprise of Marlon Brando in "On the Waterfront." They are merely part of a parade, generating their own joyful din.
This is the longshoremen's drill team, the creation of the International Longshore and Warehouse Union, with its hard-nosed reputation for grueling work in the grittiest of worlds.
On this sun-splashed morning, the workers are clapping and clomping their way through San Francisco's Juneteenth Parade.
The boisterous team executes maneuvers dubbed "double to the rear with a fake," "soul beat," and "contract negotiation" at a volume designed to wake up the neighborhood. For good measure, they occasionally slash the air with their barbed irons.
The performance is part Riverdance, part Marine Corps march – with a lot of percussive noise and Isaac Hayes thrown in. The team provides a creative outlet for workers and helps burnish the image – or at least boost the profile – of the longshoremen's union at a time when organized labor is in retreat in America.
---