A pen, a passport, a mission for Laos
In Laos, where books are a rare commodity, one mystery writer puts the nation in print – and helps put books in the nation.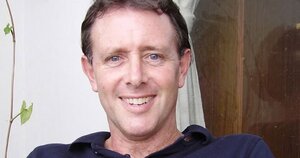 Courtesy of Jessica Cotterill/Soho Press
Colin Cotterill has little in common with his alter ego. For starters, he's no "ghost doctor." Nor has he ever performed an autopsy. And yet what would good old Dr. Siri Paiboun do without him?
Mr. Cotterill's relationship to the wise septuagenarian coroner/medium/sleuth resembles that of Sir Arthur Conan Doyle to Sherlock Holmes. Together, author and protagonist make for a memorable team in unraveling the murder mysteries that haunt their land.
Except in Cotterill's case, the land is Laos. A small communist holdout between Thailand and Vietnam, it's a country where books are curiosities: Homegrown literature is almost nonexistent in Laos, and publishing is mostly limited to textbooks.
But now the London-born author is putting Laos on the literary map as a backdrop for his mystery novels featuring an all-Lao cast of characters. He's also lending a hand in a campaign to distribute children's books to Lao kids.
"The idea of reading for pleasure is missing in Laos," says Cotterill, a longtime teacher and child-protection advocate in Southeast Asia and Africa who now lives in Thailand. "Few people even own books."
---