It's their cake and everyone eats it, too
Smith Islanders turn cakes into dough after they become the 'official' Maryland dessert.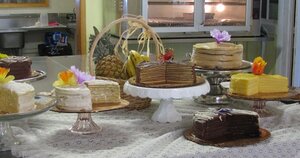 Elaine F. Weiss
Smith Island, Md.
Beverly Guy is baking a layer cake in her kitchen stove, as she has done for almost half a century, on this tiny island in the Chesapeake Bay. But this summer, things are different. Now, when she makes the multilayer masterpieces, she is producing the official state dessert of Maryland. The recipe is the same, but circumstances have changed.
"I'm proud that it's put this little island on the map," says Ms. Guy, who lives, and bakes, in the house where she was raised. "But it's a double-edged sword."
The bill designating Smith Island Cake as the state dessert, which the governor signed into law in late April, has not only put these 4.4 marshy square miles on the map but brought them international attention. The island and its cake quickly became a darling of glossy food magazines and TV cooking shows, and a destination for French and Japanese news crews.
The cakes were always a staple of family birthdays and funerals, church suppers, and school bake sales. "Now it's been commercialized. It's become a cutthroat thing," complains Guy, a widow who tries to earn some extra income by baking about a dozen cakes a day for local restaurants. "It breaks my heart."
Yet commercializing the Smith Island Cake was the point of naming it the official state dessert, and others see the cake's spreading fame as a welcome boost to the island's sagging economy, one otherwise totally dependent upon the vagaries of the shellfish harvest from Chesapeake Bay.
As the cake has gained stature, though, it has raised questions as sticky as the frosting on Guy's spatula: What is an "authentic" Smith Island Cake? Who should be making them? And, most important, who should profit?
•••
---