Rafael Nadal moves relentlessly toward dethroning tennis's reigning king
This week will tell whether Roger Federer, the Fred Astaire of tennis, can regain his footing after losing the No. 1 ranking to the hustling Spaniard, or whether a once-in-a-generation shift is under way.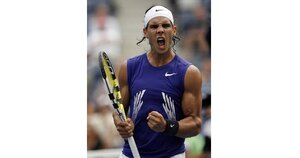 Kevin Lamarque/Reuters
As rivals, they form a perfect tennis tableau: There's the great Roger Federer, for 4-1/2 years touted as, inevitably, the greatest ever, he of the elegant V-neck sweaters, Rolex watches, and classic, near-perfectly graceful game.
But here's Rafael Nadal, who spent a record 160 weeks as the second-best player, his swarthy, spider-veined biceps flailing about his sleeveless T's and knee-length koulats, his mane of sweaty hair whipping over every grunt-propelled forehand as he pursued the Swiss genius. In July, finally, after a sodden five-set epic match in Wimbledon's gloaming, Rafa all but ended Roger's record reign as the No. 1 player in men's tennis.
And while fans are clamoring for a third straight Grand Slam final featuring these two here at the US Open, the tennis world has been buzzing the last two months about the rise of Nadal, who also crushed Federer at this year's French Open and won the gold medal in Beijing.
See, three months ago, Federer was tennis's version of Tiger Woods, Wayne Gretzky, or Michael Jordan. Now, some wonder whether he can handle a year of such devastating defeats, when history was just within his grasp. Suddenly, there's a story line.
---