How one Mississippi town rebuilds hurricane after hurricane
Residents of tiny Pearlington, often overlooked by the media and federal-aid donors, rely on grit and small-town selflessness to survive repeated natural disasters.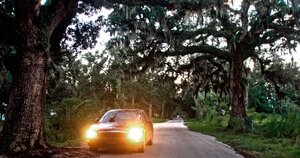 Carmen K. Sisson
The live oaks that sprawl across the Southern landscape are like no other tree. Their trunks are massive, the limbs long and twisting, drooping to the ground, stretching to the sky, spreading to touch other trees. Most are hundreds of years old. Some thousands. They've seen floods, droughts, fires, hurricanes.
And still they survive, the wood growing harder, stronger, more resilient, through every trial they endure. In Pearlington, Miss., they're everywhere, a fitting symbol for a town that refuses to die and 800 residents who bend, but will not break.
It's easy to overlook Pearlington. There are no red lights to stop drivers as they cross the state line into Louisiana, no gas station to buy a Coke. There's no tax base, no local government. It lacks the glitz of Biloxi or the quiet coastal beauty of Pass Christian. It is a forgotten place in the middle of nowhere, appearing briefly on the radar following hurricane Katrina and disappearing just as quickly.
With last week's hurricane Gustav being touted as a relatively minor storm, and Louisiana again capturing the national spotlight, no one in Pearlington is waiting for aid, even though 100 homes were flooded or destroyed, some only months after being rebuilt following hurricane Katrina. Instead, residents wearily pick up their brooms once more, sweeping away the water and mud that covers almost everything in this battered corner of rural Mississippi.
In a town that's less than 10 feet above sea level, it's an almost yearly ritual, this cleanup and recovery, but residents never get used to it. Mark Evans and his wife, Janyne, have lost five homes and three businesses to the four bodies of water that surround Pearlington. This week, they're removing Gustav's calling card, showing up early and leaving late in an attempt to get their restaurant ready for business once more.
---