Equine refugees find a future in African tourism
Zimbabwean farm horses endangered by land takeovers were spirited away to safety in Mozambique by one determined couple.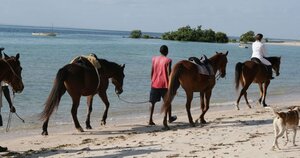 Stephanie Hanes
Vilanculos, Mozambique
The horse's name is Viper. Which is enough, really, to make an inexperienced rider a bit nervous.
Mandy Retzlaff laughs at the idea and hands over the reins. "Oh, you'll be fine," she says, and gives a wink and a smile that can be either reassuring or devilish.
Viper snorts.
"Just let him know you're taking charge," instructs Mandy.
Easy for her to say. This is a woman who, with her husband, ferried 100 horses hundreds of miles through Zimbabwe's worst political turmoil. And that was after they'd saved the horses from violent land invaders by sneaking into the farms where the horses were stranded. In short, Mandy seems to have a particular knack for taking charge, bucking and kicking notwithstanding.
She and her husband, Pat Retzlaff, were farmers in Zimbabwe when, in 2000, President Robert Mugabe encouraged the violent takeover of white-owned property. They were evicted – from six different farms, actually – and their savings disappeared with their country's skyrocketing inflation (now estimated at more than 11 million percent).
But after an epic effort to save the farm horses – and themselves – they're turning the experience into a new livelihood in a new homeland. They saddle up the horses they saved for equestrian-minded tourists visiting this Indian Ocean beach town.
Mandy glares at Viper, who still seems displeased with his clumsy load. She hands a lead to Dhuvai Musekwa, another Zimbabwean who fled, and who recently found work with the Retzlaffs' Mozambique Horse Safaris. He keeps Viper in line during the walk along Vilanculos' palm-tree lined beach and saves money to send to his wife and child in Zimbabwe.
---
Follow Stories Like This
Get the Monitor stories you care about delivered to your inbox.