Muslim students say YES to the U.S.
Teens from Muslim countries spend a year attending high school in the US and dispelling cultural misconceptions on both sides.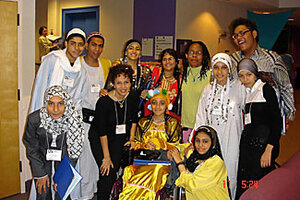 Courtesy of the Youth Exchange and Study Program
When Junaid Bin Masood, a 17-year-old Pakistani exchange student studying in southern California, was asked whether he had a gun in his backpack, he was speechless. He had never been out of Pakistan before, so this question from a schoolmate was jolting. But he kept his cool and explained that most Pakistanis are not jihadists.
"Everyone knows there are good and bad things all over the world," Junaid says. "There are some bad people in Pakistan, too. Just like in the US."
Such incidents underscore the divide between Americans and the people of Muslim countries. That is why the US State Department created the Youth Exchange and Study (YES) program (www.yesprograms.org). This competitive program sends some of the best and brightest teens from Muslim countries worldwide on one-year stints to high schools across the United States.
"What both Americans and our students learn is that while there are difficulties and conflicts between our cultures, the overriding desire of both is very simple and the same: to live in peace," says David Beiser, director of grant programs at AYUSA Global Youth Exchange, who works with the State Department to carry out the program.
About 3,000 Muslim students from nearly two dozen countries have participated in the program since its inception in 2003. In the 2007-08 school year, it brought 750 students to the US.
The State Department is planning to expand the program. Next year, it will add 25 more students and one country, Suriname. Mr. Beiser says the program hopes to take this even further. And starting next year, American high schoolers will study in some of the Muslim countries in a reverse exchange.
---