Toys 'Я' (for) us grown-ups!
Sales of toys are down – except to adults, who love to collect the toys that were popular when they were younger.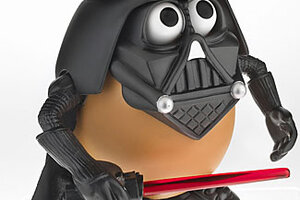 Hasbro Inc./AP/File
Toy sales in the US have steadily dropped for the past few years. But for more than a decade, the bright spot in an otherwise gloomy market has been toys aimed at grown-ups. In 2007, retail sales of playthings geared to the over-18 set were up nearly 10 percent.
"This is definitely one of the industry's biggest trends," says Gareb Shamus, New York publisher of the industry magazine Toy Wishes. "And it's only going to increase as this demographic gets older."
Whether it's the Los Angeles rock musician who owns thousands of dollars of "Star Wars" action figures and costumes, a Dutch physiology professor with a basement full of LEGOS, or a Washington State chef with storage units and glass bookcases jammed with Muppet toys, this is a trend that grew from the era of mass-market tie-ins.
"These companies got accustomed to reaping the profits from film and TV tie-ins," says Mr. Shamus. "And they regrouped and retooled their products to hold onto their customers as the fans began to get older."
Even as adults are holding onto their toys longer, children are setting them aside at an ever-earlier age. Toy industry expert Richard Gottlieb calls this "age compression." Increasingly, he says, both ends of the spectrum aspire to the "sweet spot of our time, which is teen culture. Everyone wants to be that eternal youth."
---