Sierra Leonean designer redefines African couture
For modern urban women hopping a bus or grabbing a cab, the head wrap and billowing fabric are literal stumbling blocks.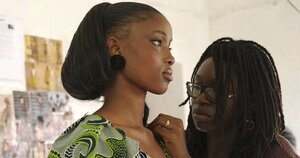 Katrina Manson/Reuters/Newscom
Freetown, Sierra Leone
If she were still in New York or Paris – anywhere but here, really – Adama Kargbo would be wearing striped socks that reach her knees, or a blouse in an outrageous color, or a one-of-a-kind couture find.
Not so here, she says, walking the Freetown streets to which she's been exiled, on a workday, by yet another power cut. "Here, they'd say, 'She done gone cris' – that I'd gone crazy, that my head is no longer there."
Ms. Kargbo came back to her native Sierra Leone about a year ago, to do something that may also seem a little cris. She wants to launch a fashion empire – in a country where tailors still power sewing machines by pedaling and stitch buttonholes by hand.
"I can't find good zippers, or buttons that aren't plastic, or machines that will finish things," Kargbo acknowledges, referring to the embroidered touches that polish off pieces sewn on serious machines. "I would love to buy industrial machines which sew better, stronger stitches, but – I buy a machine, [when] I don't have lights?"
Little about setting up shop in a post-conflict country seems to make sense, but tens of thousands of Africans are returning to their native countries as stability takes root. Kargbo is one of hundreds of Sierra Leoneans who've returned and opened businesses; she thinks her home is poised for an economic upturn. Longtime and recently returned Freetown residents alike say peace feels permanent – it has been six years since the infamous diamond wars here officially ended, and last year's presidential elections changed the political leadership of the country for the first time in a decade.
---