A video-game magnate gets his journey into space
Richard Garriott, whose father was an astronaut, pays $30 million to go up Sunday to the International Space Station as a galactic tourist and working member of the space crew.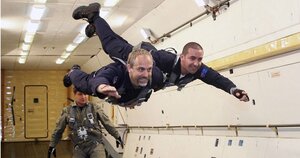 Sergei Remezov/Reuters
Crowding the walls at Frenchie's Italian restaurant in Houston, a favorite hangout for National Aeronautic and Space Administration workers, are hundreds of autographed photos of astronauts past and present. Among them is a signed shot of Owen Garriott, a veteran of two NASA missions, posing proudly – exuding the Right Stuff.
Seated below the photograph, spearing forkfuls of pasta, is his son Richard, whose dream of following in his father's footsteps was shattered when he was told, at age 12, that he had the wrong stuff. Poor eyesight would preclude him from ever joining the US space program, a doctor advised him during a routine checkup at NASA's family clinic.
But this Sunday, Richard Garriott will reverse that verdict as he blasts off for a 10-day mission to the International Space Station (ISS). "I've never been the kind of person who takes 'No' very well," he smiles, pausing between mouthfuls to greet fellow diners eager to wish him well. "If they hadn't told me 'No' all those years ago, I may not be going up now. It did me a favor."
From that day more than three decades ago, he has spent his life plotting an alternative path to the stars, ultimately amassing the cash to buy his way into orbit as a paying guest of the Russian space agency, Roskosmos. The ticket price: $30 million.
---