The yo-yo used in ways you won't recognize
Aficionados converge in California to compete in a national championship that is more performance art than child's play. Have you seen a 'spirit bomb?'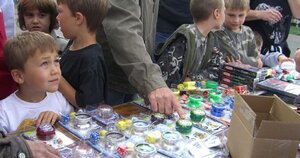 Jocelyn Wiener
Augie Fash climbs onto the outdoor stage at the city plaza here, yo-yo in hand. The crowd is lively, expectant. They know Fash's skills. Around these parts, he's something of a legend.
A rock song by AFI booms forth from the speakers, and Fash, a psychology student at California State University, Chico, begins to flick his yo-yo. His three-minute routine builds like a symphony – only it's conducted at fiber-optic speed.
He spools and unspools his yo-yo into a series of complicated spirals and lassos and cat's cradles. At times, it appears to hover in the air above him. Periodically he flashes an impish grin toward his fans.
"Augielicious!" someone screams.
This is not your father's yo-yo. Neither is it your brother's or cousin's, for that matter. This is world-class performance art – Yo-Yo Mas playing a different kind of string. Here at the annual US National Yo-Yo Championships, top competitors fly in from Michigan and Florida and Washington State and proceed to dismantle any traditional notions you might have about what the toy can and cannot do.
Routines involve everything from looping the string around ears, elbows, or thighs to tossing a yo-yo into the air and catching it behind one's back. Often using two yo-yos at once, they pass over tired tricks such as "rock the baby" (dangling the yo-yo like a pendulum) and "walk the dog" (rolling it along the floor) in favor of the "gyroscopic flop" and the "iron whip" (use your imagination).
---