World's largest working pipe organ is in ... Macy's
Before there was Muzak, there was the Wanamaker. Newly restored, it restores the shopper's mood.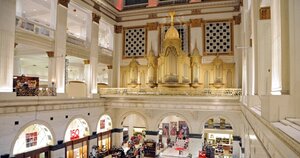 Sabina Louise Pierce/Special to The Christian Science Monitor
Philadelphia
When you see the Wanamaker organ soar heavenward, you want to look around for the rest of the cathedral. When its sound makes pillars tremble, you know it speaks for the powers above. But where stained glass windows should be – there is ladies apparel. In the would-be pews, people are trying on boots. And that scent wafting through the air is not votive candles, it's Chanel No. 5.
Wait. This is no church. This is ... Macy's?
Here, occupying prime retail space, there are nearly 30,000 organ pipes in chambers towering up through seven floors, making the Wanamaker the largest operating pipe organ in the world. For precious square footage to be given over thus is rare. Even modest organs tend to be located not in stores but in churches, private homes, or municipal buildings; built by the Los Angeles Art Organ Company, the Wanamaker is one of only two known department-store organs in the world.
As spectacular as the instrument is, so, too, is the space it inhabits. The 1911 masterpiece of a building designed by Daniel Burnham, a pioneer of urban planning and skyscraper architecture, is like a renaissance palace. A national historic landmark, it covers a city block, running from Chestnut Street to Market, from 13th to Juniper, and encompassing a 150-foot-high center court lush with decorative plaster, laced with arches, and rich with marble. The Grand Court, open to shoppers peering from the floors above, is the space that retail pioneer John Wanamaker sought to fill with the sounds of the organ he brought here from the 1904 St. Louis World's Fair.
---