Mary Barley crusades behind the scenes for the Everglades
The wealthy widow uses her money and connections to become one of Florida's most potent protectors of the 'river of grass.'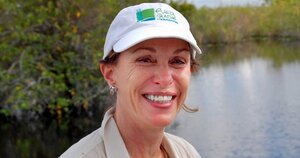 Amy Green
Everglades National Park, Fla.
Mary Barley pauses and points into the brush. There, perched near the water, is a green heron. She reaches for her camera. On the boardwalk nearby, tourists swat mosquitoes. A small alligator floats in the distance. Somewhere pumps deliver the water that makes this entire scene possible.
It is a warm, bright morning here in the Royal Palm area of Everglades National Park, the first area of the Everglades to be preserved as a state park in 1916. Here North America meets the tropics, breeding a biodiversity unlike that of any place else on Earth. And the most valued resource is water. Water fuels the region.
Ms. Barley and I are here with Tom Van Lent, senior scientist for the Everglades Foundation, a conservation group. Barley, the foundation's vice chairwoman, is on one of her many fact-finding trips into the Everglades. She peppers Mr. Van Lent with questions as if she's cross-examining a witness – about water flows, about man-made water "gates," about the minute mechanics of one of the world's most unusual pieces of outdoor plumbing. She wants to do more than preserve the Everglades with a photograph.
For more than a decade, Barley has waged a campaign to save the Everglades, one unprecedented for engaging all the region's power players (some of them grudgingly, to be sure) to work for real change across a collapsing ecosystem. A self-described "environmental rabblerouser," Barley is a millionaire widow who took up her husband's cause after his death in a 1995 plane crash that occurred as he was on his way to meet with the US Army Corps of Engineers about the Everglades.
---