Three cups of tea was a ticket to education
At the invitation of author Greg Mortenson, a Kashmir village woman from his next book comes to Montana to boost her confidence in leading women.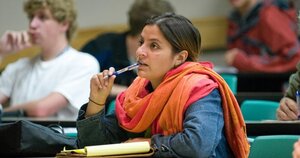 Deirdre Eitel/Special to The Christian Science Monitor
Bozeman , Mont.
Walking around the remote village of Patika, in Pakistan-controlled Kashmir, Greg Mortenson, at well over six feet tall, was hard to miss that day in 2006. Some villagers understood he was there to build schools, but since the devastating earthquake a year before, they were used to relief workers coming and going.
Mr. Mortenson's bestselling book, "Three Cups of Tea," had been read and discussed in just about every woman's book club in the US, but in Kashmir he was a virtual stranger.
Never one to miss an opportunity to learn something new, law student and teacher Fozia Naseer invited the stranger for tea in the refugee tent she shared with her mother and sister, set amid the rubble of her once pleasant town. In this Muslim part of the world, a woman inviting a man for tea was nontraditional – even bold.
But ever since she was a child worrying her conservative elders with dreams of becoming a lawyer, Ms. Naseer was not afraid to veer from the norm.
Little did she know just how far from the norm those few cups of tea would take her. Mortenson's visit lasted just over an hour – "He talked about education," Naseer recalls simply. But Mortenson saw in Naseer impressive drive and intellect – exactly what his nonprofit Central Asia Institute (CAI) has been trying to tap in women in the developing world for 12 years.
---