Whole lotta clucking going on in cities
More Americans raise chickens in their backyards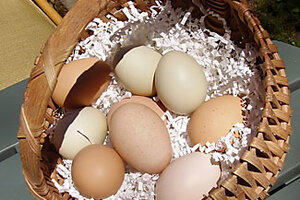 Courtesy of Seattle Tilth
When Meg Taylor and her husband went house hunting last fall in Northampton, Mass., the couple passed on several properties that weren't set up just right for their "girls."
Those girls are hens: Alice, Ester, Penelope, Petunia, Sophie, and Winifred. So the couple wanted a yard with an ample mix of sun and shade so the flock could soak in the rays, take dust baths, and nap under leafy trees.
After several weeks, they found the perfect place.
"Once you have chickens, it's really hard to live without them," says Ms. Taylor, a former biology teacher who's now a stay-at-home mom.
She and her husband, Andrew Gould, aren't the only ones who've discovered this. They're part of a growing nationwide trend – city dwellers raising poultry in backyards, mostly out of concern for where their food is coming from.
"You hear all these horror stories about factory farms, and you want a higher ethical standard for the food that you have," said Angelina Shell of the Seattle Tilth Association, a group that offers sustainable-living classes. Most chickens are kept for their eggs, she adds.
---