Bluegrass music echoes from honky tonks of ... New York?
Weekly jam sessions at the Grisly Pear, led by 'Sheriff' Bob Saidenberg, reveal a vibrant and egalitarian bluegrass scene in the Big Apple.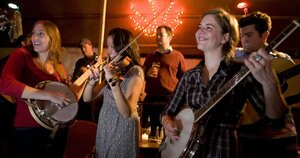 Kristen Olson/Special to The Christian Science Monitor
If it hadn't been for "Sheriff Uncle Bob," I never would have taken my banjo out of the case. Four months ago, I was a novice player in New York City. I assumed I wasn't good enough to play with other people. But with time off before graduate school, I decided to take a chance.
I walked into a nightclub in Manhattan that was staging a bluegrass jam – and froze. The musicians played at fiber-optic speeds. Their fingers flashed across the strings. What was I thinking?
Then a lanky man in a cowboy hat walked over. "That your instrument?" he asked. He looked fresh off the set of a low-budget Western. His black vest was adorned with a silver star and embroidered with the words "sheriff of good times."
"It's mine," I said tentatively.
"Well," he said, "why aren't you playing?"
This was my first pep talk from the man affectionately known as Sheriff Uncle Bob, the grandfather of New York's bluegrass jam scene. By the end of the evening, I had unsheathed my banjo – and played in public for the first time. "You can find any kind of good live music in New York," the sheriff told me. "But in bluegrass, the jam is a tradition. You don't come here for the quality of the music but for the spirit."
Many people find the existence of a thriving bluegrass scene in New York surprising. Bluegrass is considered mountain music: the antithesis of hyperactive urban life. Yet not only is the music an urban phenomenon, but the inclusiveness and diversity of the bluegrass community in New York is among the most vibrant and unique in the country.
---