The prayer booth: an artist's "exhibit" of faith
Dylan Mortimer's installations in three US cities invite the public to participate in making belief less abstract.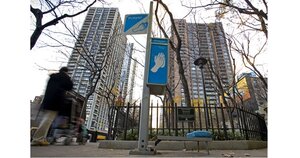 Anne Hermes/The Christian Science Monitor
NEW YORK
Many will offer elaborate prayers of thanksgiving at dinner tables and houses of worship this week, but for those who want to phone it in, well, they can do that, too. Prayer stations – public telephone enclosures fitted out with kneelers, and signage modified to advertise "prayer"– have been offering believers a whole new take on the idea of calling long distance.
In New York, the "Public Prayer Booths," a public art project, until this week graced a pocket park at Second Avenue and 59th Street, underneath the Roosevelt Island tram station. They were installed in September by Kansas City, Mo., artist Dylan Mortimer, who has similar exhibits in Jackson, Tenn., and in Cedar Rapids, Iowa.
"My intention is mainly to spark the dialogue about how individual faith functions in the public sphere," the artist explains.
While some viewers focus on the art side, others take the invitation to dialogue literally: in New York, the prayer stations have had their share of users. Surrounded by graceful benches and tidy gardens, the booths have tended to be mistaken, at first glance, for public telephones. Then comes the double-take, then the giggles, the stares, the "no way!" incredulity, then the picture-taking, and, of course, the teenagers feigning prayer on a dare.
---