Environmentally minded cowboys run a green ranch in Arizona
At two ranches near the Grand Canyon, they try to raise cattle in a way that doesn't sully the sensitive southwestern landscape.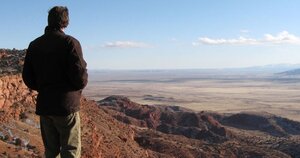 Jina Moore
John Heyneman has a problem. It's late January, and some of his cows are missing. They're stuck on the Kaibab Plateau, a 9,000-foot high Ponderosa pine forest just north of the Grand Canyon. Most of his 400 cattle made it safely from the forest, their summer home, to the valley below, where they winter. But the stragglers wandered off on land that lacks a cowboy's most important tool – fences – and now they're lost, stranded knee-deep in snow.
Mr. Heyneman is the ranch manager at the Kane and Two Miles Ranches, which cover 850,000 acres of mostly public land on the North Rim of the Grand Canyon. That's a lot of land across which to lose a cow. The aging fences have gaps in them, and passers-by often leave gates ajar. Up here, where the land rolls from rocky desert to lush forest to sandy cliffs, the most reliable resource in Heyneman's work is the land. As an example, he gestures out the window of his white Dodge truck.
"Those rocks," he says, pointing to the Vermilion Cliffs, one of the most famous landmarks in the Southwest, "are one of the few really effective fences we have."
The ranches are a partnership between the Grand Canyon Trust and the Conservation Fund, which together spent $4.5 million for the land as an investment in conservation. But the parcels came with a controversial catch: cows. Yet here, the cattle have gone green. Or, if you prefer, the conservationists have gone cowboy. It's an unlikely partnership between ranchers and environmentalists, two groups usually on opposite sides of the fence. Then again, those fences don't usually come in 3,000-foot-high red rock.
•••
For decades, conservation groups have decried cattle grazing as an act of environmental destruction. Cows trample native plants and insects, leech scarce water, and aggravate soil erosion, environmentalists say. Heyneman has heard it all before, and he even agrees – to a certain extent.
---