Voices of Rwanda: healing the wounds of genocide
A high tech oral history project goes beyond recitation of injustice to the heart of a people.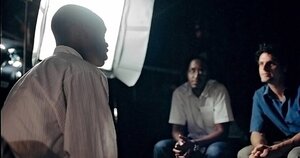 Courtesy of Alexander Gibbons/Voices of Rwanda
Taylor Krauss sticks out more than most white people here, on the dusty dirt road that runs in front of his home and office. Expatriates jokingly dub this part of the capital city "NGO Row"; Mr. Krauss's business is neighbor to the German Agro Action Fund, across the street from the Red Cross, down the road from Paul Farmer's Partners in Health, and a quick walk to any number of other nongovernmental organizations dedicated to improving the standard of living in one of Africa's poorest countries. The nonprofit he runs, called "Voices of Rwanda" (VOR), seems somehow out of place.
Like hundreds of expats here, Krauss came because of the genocide. The murder 15 years ago of 800,000 Tutsis, a minority ethnic group, and the aftermath of the killings have brought attention and aid money to the schools, hospitals, water systems, and economic programs of this tiny country just below the equator.
Krauss is here on a different kind of mission. He wants to help the country heal with history. Two years ago, he founded VOR, an oral history project, hoping to compile the most comprehensive collection of individual stories about the genocide. In the process, he'll build what may be the world's most technologically advanced oral history archive – and he'll do it in the heart of Africa.
---