Europe's Christmas markets
European holiday markets, which date back centuries, are enjoying renewed popularity.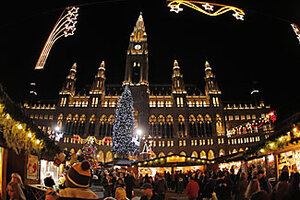 Heinz-Peter Bader/Reuters
My first Christmas abroad caught me by surprise. The heart and soul of my new home – Prague's highly esteemed Old Town Square – had been transformed, seemingly overnight, into a scene from a Charles Dickens novel.
Little, red, thatched-roof gift booths strung with garland, tinsel, and holly dotted the snow-covered square. Smoke from roasting chestnuts snaked through the air, and pretty women in colored dresses, earmuffs, and scarves sang carols as horse-drawn carriages stood waiting for their next fare.
Dazzling and magical hardly seemed like adequate descriptions for such a yuletide display. Rather, what I remember unfolding before me on that crisp winter afternoon two years ago seemed astonishingly surreal. I didn't think the holiday season could get much better.
As it turns out, the Czech capital's famous outdoor markets were just the prelude. Europe is renowned for its Christmas markets. Practically every big city has at least one, if not several. But – not to be biased – some of the best, biggest, and oldest seasonal marketplaces reside right in the center of Europe.
A few – such as the Striezelmarkt in Dresden, Germany – date as far back as the Middle Ages.
---