Teens in Oakland, Calif., find an outlet in 'scraper bikes'
Led by young Tyrone Stevenson, they create two wheelers from tricked-out scavenged frames, recycled rims, and Oreo cookie wrappers.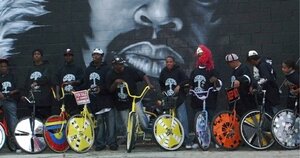 Jocelyn Wiener
The parking lot is full of boys. There are tall boys, short boys, rowdy boys, and shy boys. There are eager boys who clown around, hyper with anticipation. There are hard-looking boys with gazes that pierce like nails. On this rainy autumn evening, the whole group is spinning around a cracked, weedy corner of east Oakland on the souped-up bicycles and tricycles they call "scraper bikes."
They've spray-painted the recycled old wheels orange and blue and white and red. They've pasted Reese's and Skittles and Oreo wrappers on the scavenged frames. A few even have amplifiers wired to the back. Laughing, the riders zoom and turn, zoom and turn, often narrowly avoiding collisions.
One older teen – a soft-spoken dreamer with a sequined hat perched atop his head – serves as their leader. His name is Tyrone Stevenson, though most know him by his nickname, "Baby Champ." He is, everyone agrees, the Scraper Bike King. He wants to change the rough, violent world that he and these other boys are growing up in. He thinks he can do it with bikes.
"I just want to give them something positive," he says.
Until recently, most people had never heard of Stevenson or the tricked-out homemade bicycles he invented back when he was a troubled 13-year-old. Stevenson modeled his creations after "scraper" cars, which are popular in east Oakland and feature booming stereos, candy-colored paint jobs, and big wheels with matching rims. The cars' name derives from the rims, which are sometimes so large they scrape against the wheel wells. Stevenson simply borrowed that idea – big wheels, bright colors, loud music – and applied it to bikes.
---