Modern mariner phones home to Maine schoolhouse
From an oil rig in the Indian Ocean, a seafaring dad offers practical math and tales of pirates as lessons over a Web connection with his kids' classroom back home.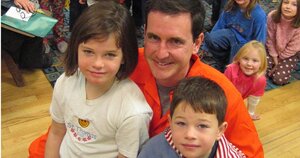 Todd R. Nelson
Castine, Maine
Bess MacArthur's father was calling from work. So Bess and her first- and second-grade classmates – all six of them – walked down the hall to the laptop computer to say hello. Dad is on the screen, wearing headphones and his bright orange coveralls in his office: the chart room of the Mobile Offshore Drilling Unit West Taurus. Location: 18º 57.6' S 58º 55.4' E. and steaming west to Mauritius.
His words had a slight time delay; the picture was grainy, and the satellite dropped the call once. But it wasn't a bad connection given the distance: Gordon "Mac" MacArthur was calling from the southern Indian Ocean.
Bess and her classmates were at the 60-student Adams School here, where it was noon. On the West Taurus it was 10 p.m. Maine: cold. Southern Indian Ocean: balmy.
Castine is on Penobscot Bay in the Gulf of Maine, the granite-shored region at the heart of shipbuilding and seafaring in the Age of Sail during the 1800s, when sea captains from nearby Searsport and Belfast spent years away from their families moving cargo across the world's oceans.
---