Your message here? Ads come to the math quiz.
When a teacher decides to sell space on his calculus tests, most students approve and the media beat a path to his door.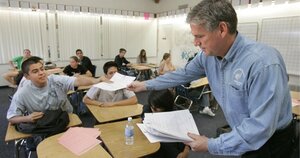 The San Diego Union Tribune/ZUMA
San Diego
Tom Farber is the kind of guy with whom you wouldn't mind sharing a hot tub conversation. Silver-haired, fit, and gregarious, he's telling his tubmate at a condo complex that he is a teacher. Been in the profession 23 years, 17 at Rancho Bernardo High, in a tony suburb of San Diego. As he talks over the noise of jet-propelled bubbles, his story turns to the underfunding of California schools.
This is how Mr. Farber's 15 minutes of fame – perhaps extended to half an hour – begins.
The chance conversation, with a neighbor who's a magazine editor, turns to the way Farber is bridging a classroom budget deficit.
Realizing he couldn't afford all the paper he needed for his calculus tests, he decided to get creative. On Back to School Night, he asked students' parents if they would sponsor tests. That's right, pay to put ads at the bottom of the first page.
He collected $270 that night – enough to meet the cost of producing quizzes, tests, and a semester final.
As the two men talk, the neighbor senses there's a story here. It first appears in San Diego Magazine. The story is picked up by the local NBC-TV affiliate, and followed by an article in The San Diego Union-Tribune. USA Today then puts Farber on its front page. After that, a media maelstrom ensues.
---