The artist who created the White House Christmas card
Landscape painter Tim Lawson re-created the view from the Truman balcony for a holiday card that the Bushes sent to friends and dignitaries around the world.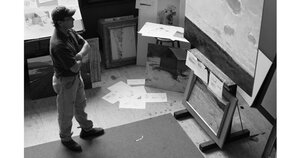 Courtesy of Dorie Lawson/Soldier Creek Associates
Rockport, Maine; and Bozeman, Mont.
Tim Allen Lawson stood alone on the second-floor terrace, waiting for dusk to bathe the nation's capital city in soft light. Down from Maine for the day, he hurriedly sketched the landscape before him with a 3B graphite pencil, distilling its essence so he could use it as research for an oil painting he would do later in his studio.
Knowing his opportunity was fleeting, he immersed himself in the scene, avoided distraction, and didn't hear the man enter the room behind him. "Who the heck is on my balcony?" a voice bellowed.
Panicked, Lawson turned. When he realized who was admonishing him, he began to stutter: "My name is Tim Lawson, Mr. President. I met with your wife earlier today, and she told me I could be up here. I'm sorry if I'm disturbing you."
President Bush was, in fact, just being mischievous, feigning alarm over an intruder in his private quarters. He knew full well the landscape painter had been commissioned by the first lady to create an image for the 2008 White House Christmas card.
Putting Lawson at ease, Mr. Bush expressed his pleasure that the artist was portraying a view that he counts among his favorites over the past eight years. Lawson's painting, "Evening View From the Truman Balcony," appears on more than two million holiday cards now reaching dignitaries, friends of the Bushes, and citizens around the world.
---