The 'micro' enterprise that is chip repair
Rodrigo Alvarez can't afford to replace the defective microprocessors on which his PhD depends, and so he's learning to fix them himself.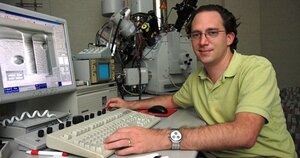 Douglas Fox
Rodrigo Alvarez sits silent in a darkened room. He stares through his computer screen at a gray landscape, faintly rippled like windblown sand.
Mr. Alvarez, a PhD student here at Stanford University, is looking at the polished surface of a silicon chip magnified 15,000 times under an electron microscope. That chip sits a few feet away, sealed inside a Frankensteinesque machine with wires protruding from all sides.
Alvarez is at Stanford's Focused Ion Beam Laboratory, about to do a microscopic repair. It's the equivalent of cutting and reconnecting wires in a toaster oven 1/100th the size of a grain of sand. Earning his PhD depends on it.
Silicon chips sit at the heart of all things electronic, from computers to iPods to cellphones. But this chip – Alvarez's PhD project – represents an entirely new vision. He's designed it to mimic a part of the human brain called the cerebellum. This chip, he hopes, will someday allow intelligent robots to move gracefully to explore Mars, rescue kittens from burning buildings, or cook omelets.
But that's all in the future. Today, he has a repair job to do. Alvarez has found a fatal flaw in this chip that he spent two years designing.
---