The cramped and creative world of the puppeteer
Anney McKilligan is one four people who operate 22 puppets – including squirrels, woodchucks, and possums – at a stage production in Connecticut.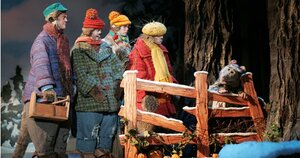 Diane Sobolewski/Courtesy of Goodspeed Musicals
Anney McKilligan lies in a coffin-like box beneath a fabricated car that's rumbling across the stage of the Goodspeed Opera House here. She manipulates a paddle between her thighs, a lever next to her leg, and three sets of rods with her hands. Part mechanic, part artist, she uses the tools to animate the "actors" in the car above – five raucous and uncannily lifelike puppets.
The audience seems to appreciate her work even though they don't know who she is or what she's doing: It laughs loudly at the sniggering weasel and water-spitting catfish. But Ms. McKilligan is growing increasingly uncomfortable. Her tiny compartment is dark and cramped. Worse, white smoke, meant to depict exhaust, has begun filling her hidden lair.
"With puppeteers, there's a whole other story going on behind the scenes," says McKilligan. "Nobody knows what you're going through."
Welcome to the creative but invisible world of the puppeteer. This is not your parents' puppet show: It's not a matter of putting your hand in a sock or dangling a toy soldier from a string.
Like acting, puppeteering is a stylized, demanding, and professionally competitive art form. One puppeteer in this stage production has a masters degree in his craft. Hundreds of people auditioned for just a handful of slots. The few fortunate enough to get hired sit on their knees for hours during a production, creating characters out of inanimate objects.
In the process, they are contributing to an artistic tradition that has helped redefine our notions of comedy, often evokes memories of childhood, and, more than anything, fuels our imagination. "There's a part of you that knows the puppet isn't real, but there's a part of your heart that wants to believe that it is," says Tyler Bunch, the puppet captain of the Goodspeed production. "All the puppet does is open and close its mouth, but you could swear you saw it smile."
---