American road trip
America's historic Route 66 fascinates visitors from other countries.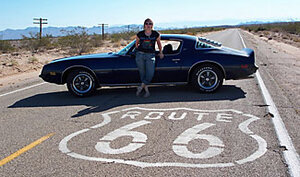 Jim Winnerman
Soulsby's Shell station in tiny Mt. Olive, Ill., seems like an unlikely attraction for international tourists. The gasoline pumps, which first started dispensing fuel in 1926, have been dry since 1991. But its position alongside historic Route 66 draws scores of visitors from every corner of the globe each spring, summer, and fall.
Between 1927 to 1985, Route 66 stretched 2,448 miles from Chicago to Los Angeles and was a major thoroughfare for Americans traveling west. A John Steinbeck novel, a hit song, a television show, and several movies helped transform the stretch of pavement into an international symbol of American wanderlust.
Today, tourists who want to experience the thrill of the wide-open road for themselves have taken to motoring what's left of the distance – sometimes even in vintage cars or astride Harley-Davidson motorcycles bought or rented especially for the trip.
"For the four of us it was the desire to see the 'real' America and to experience for ourselves the amazing pioneering spirit Americans had and to try to appreciate the trials endured on their search for a better life out West," says Michael French of southern England, who rented Harleys for a 2008 trip with his wife, Vanessa, and another British couple.
The international interest in Route 66 is extensive. There are Route 66 clubs in Norway and devoted websites in Romania and the Czech Republic. A Belgian man created the Historic Route 66 website (www.historic66.com), which has complete turn-by-turn descriptions of the highway to help in trip planning.
---